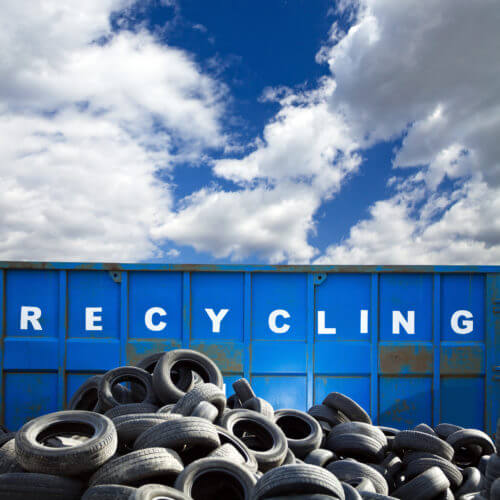 – FOR IMMEDIATE RELEASE –
eTracks Tire Management Systems Recognizes Service Provider Excellence in Tire Recycling
Toronto, ON. – eTracks Tire Management Systems successfully navigated a year unlike any other in 2020. In spite of a sluggish economy, including dramatic changes to how we all live, work and commute; eTracks customers continued to receive unwavering compliance services. To commemorate this milestone, eTracks announced several Awards of Excellence in appreciation of our suppliers' invaluable help in navigating a challenging year and still managing to exceed 2019 tire collection by 13,000 tonnes.
"eTracks relies on the outstanding services of tire haulers and processors to ensure that end-of-life tires are collected in a timely and efficient manner and in alignment with the Resource Recovery and Circular Economy Act; their work helps divert tires from our landfills so they can be made into new products," said Steve Meldrum, CEO of eTracks Tire Management Systems.
Multiple criteria were evaluated to determine the top service providers for 2020, such as professionalism, ease of doing business, willingness to adapt to Regulatory changes, transparency in business operations, and a commitment to service delivery excellence.
Service providers are the foundation of tire recovery and recycling in Ontario, and we sincerely thank all our enrolled haulers and processors for coming through to make 2020 a successful year in spite of global challenges.
Congratulations to the recipients of the 2020 Awards of Excellence!
Award of Excellence, Processor of the Year: Ideal Rubber Industries Corporation
Award of Excellence, Hauler of the Year: CRM Hauling
Award of Excellence, Hauling – Northern Ontario: William Day Construction Ltd.
Award of Excellence, Hauling – Central Ontario: Emterra Tire Recycling Ltd.
Award of Excellence, Hauling – South Eastern Ontario: Trillium Tire
Award of Excellence, Hauling – South Western Ontario: All Ontario Recycling
About eTracks Tire Management Systems – eTracks is a not-for-profit Producer Responsibility Organization (PRO) in Ontario, working on behalf of major tire producers, automakers and tire distributors in the province. The company provides fulfillment services for its clients, in compliance with the current tire regulation and works with a vast network of end-of-life tire collectors, haulers and processors to ensure the responsible recycling of end-of-life in support of a more circular economy.
Media Inquiries:
Melissa Carlaw, Communications and Marketing Lead, [email protected]