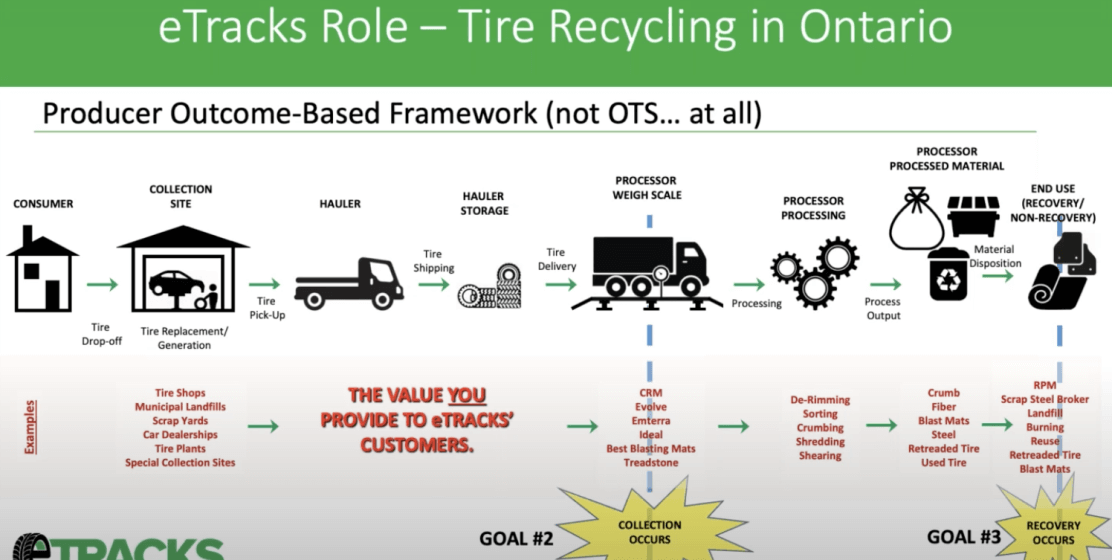 Throughout July 2021, Evolve Recycling Inc transitioned out of the hauling management business. Evolve will continue to operate its "Trillium" hauling business, and has partnered with eTracks to manage the delivery of used tires by other haulers to their facilities in Brantford and Moose Creek going forward. Our goal throughout this process was to ensure the uninterrupted flow of tires and payments to haulers.
Haulers who had contracts or agreements to haul tires for Evolve were provided with a new contract from eTracks. A joint letter from Evolve Recycling and eTracks was also provided by email on July 9, 2021 to all Evolve haulers.
eTracks held 4 webinars for the hauling community on May 19, May 26, June 2 and June 9 outlining this transition and the contents of the new contracts. We were pleased to note that more than 30 haulers attended these webinars. Haulers can access a copy of the webinar at:
eTracks looks forward to expanding the use of direct-to-hauler contracting with its service providers in the coming months. A few of the key benefits to direct-to-hauler contracting include:
Direct payment from eTracks to haulers (faster payment)
Very competitive rates!
Greater efficiency for all businesses involved
Improved management (regulatory and commercial needs) of the Individual Producer Responsibility model for end-of-life (EOL) tires.
If you're a hauler and you're interested in learning more about becoming a direct hauler with eTracks, please contact us at [email protected] to learn more.