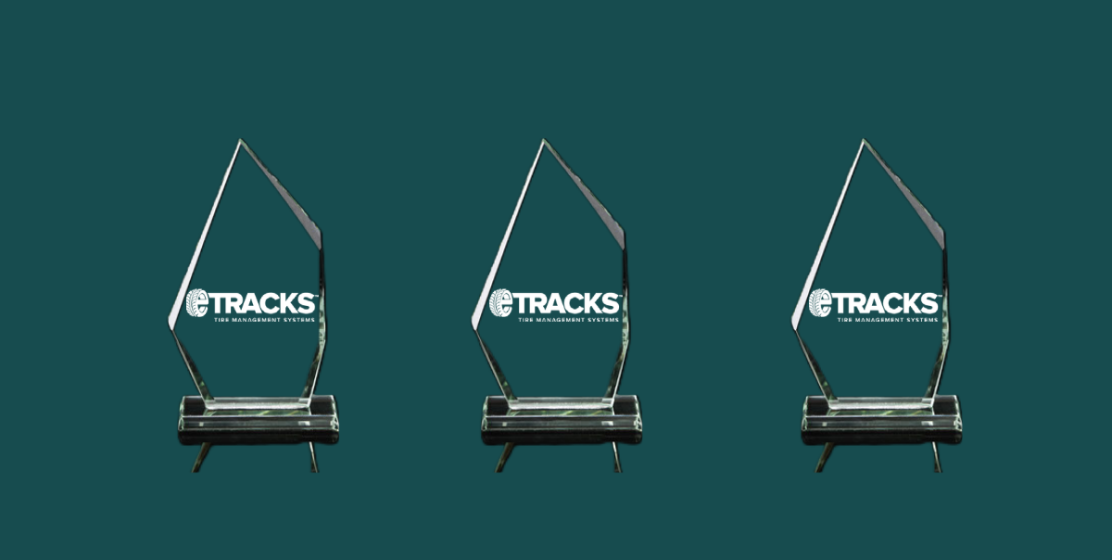 eTracks Tire Management Systems recently presented it's 2021 "Awards of Excellence" to seven service provider companies that demonstrated strong partnerships, business excellence and integrity as we navigated another successful year of tire recycling under the Ontario tire regulation and Individual Producer Responsibility (IPR) model.
Here we spotlight each of these recipients in recognition of their valuable role in helping us build a sustainable tire recycling system in the province of Ontario.
2021 Award Winners
Those honoured were:
Award of Excellence, Hauler of the Year, William Day
Award of Excellence, Processor of the Year Lottridge Retread
Award of Excellence, Hauling – Peninsula Tire Exports Recycling
Award of Excellence, Hauling – Micor Recycling LTD
Award of Excellence, Hauling – R&E Tire
Award of Excellence, Hauling – All Ontario Recycling
Award of Excellence, Processor Emterra Tire Recycling
The Day Group
Award of Excellence, Hauler of the Year, Day Group Tire Recycling.
The Day Group offers tire hauling services where they will pick up used and old tires of all sizes across Northern Ontario (from North Bay to Kenora near the Manitoba border), and transport them to recycling centres in Southern Ontario.
The Day Group is a family business in Azilda and the Greater Sudbury Area.  It was founded by 20 year old William Day in 1954, who started out with with one truck, hauling lumber and plowing snow with his dad in the township of Dowling.  The Day Group business has grown over the years to become a successful multi-service business (think surface mining, transportation, arial drones, rail services, line painting and of course…used tire collection).
William ("Bill") worked hard and was dedicated to his company and employees for 64 years. If there was an opportunity to try something new, grow the business or expand to new areas, he tried it.  He saw the people of the company as his greatest asset, but also saw them as family.  He demonstrated strength, integrity, and generosity during his life, values that are still core attributes of the company today.
Thank you to everyone on the team at Day Group for your valued partnership, we look forward to working with you for many years to come.
Lottridge Tire & Retreading Inc.
Award of Excellence, Processor of the Year, Lottridge Tire
We congratulate Lottridge Tire & Retreading Inc. for receiving the eTracks 2021 Service Award of Excellence as our PROCESSOR OF THE YEAR!!
Lottridge Tire & Retreading Inc. has a long, proud tradition going back more than 50 years of servicing the commercial trucking industry within the Golden Horseshoe.
Their main products and services are Bandag retread products as well as new commercial and passenger tire sales including Bridgestone/Firestone, Michelin, and many other quality brand names. Their real strength though, is their ability to combine these products into a service program that can be specifically designed to meet the needs of today's modern fleet.
Across the Niagara region they are uniquely able to provide all of the products and services to fleet accounts without the requirement of any third party sourcing.
The eTracks team really enjoys working with the Lottridge team, and value their friendly, timely and reliable approach to their work.  We also love their tag line, "We Keep You Rolling."  Thank you Lottridge for your continued partnership, business excellence and integrity in your approach to service.
Micor Recycling Ltd.
Award of Excellence in Hauling, Micor Recycling LTD
Micor Recycling Ltd. is the recipient of an eTracks Award of Excellence in Hauling.
Located in Toronto, Micor Recycling Ltd. has been in the tire collection and recycling business for over 30 years. They are known for their high-quality servicing, assisting many of the leading chains in their tire removal needs.
Micor joined the eTracks program in 2019.  If you are an enrolled eTracks  collector, they will pick up your tires for free withing 24 hours of your call.  Now that is great service!  Whether a large or small pick-up, Micor has the equipment and professionalism to handle the job… Anywhere in Ontario.
Our eTracks team has high praise for the great folks at Micor, citing Mark Capland's deep industry expertise and willingness to share his time and knowledge.  Our stakeholder relations group, compliance team and regional investigator are always so grateful for Micor's excellent record keeping, responsiveness, and courteous approach.
Micor is committed to cleaning up the environment, one tire at a time.  Thank you Micor, for your continued strong partnership, business excellence, and integrity.
PTE Recycling
Award of Excellence in Hauling, PTE Recycling
We are pleased to introduce you to PTE Recycling, the Brantford, Ontario company that has received one of our 2021 Service Awards for Excellence in Hauling.
Peninsula Tire Exports has worked with eTracks over the last few years to continue to develop the reused market for Ontario tires. PTE has worked closely with multiple processors to increase the flow of tires from the province and to find end markets both internationally and domestically.
PTE Recycling is known for their Fast & Reliable Scrap Tire Collection, and they are currently Canada's largest exporter of used tires.  They cull tires from various collection sites across Ontario, grade and then sell the tires into markets in Texas and across the Caribbean.
Congratulations Ryan and the PTE Recycling team on your award, and your contribution to the circular economy here in Ontario.
R & E Tire
Award of Excellence in Hauling, R & E Tire
R&E Tire received an eTracks Award of Excellence for Hauling in 2021.
Also awarded in 2019, R&E continues to be a strong service provider in our eTracks network. As we drive toward sustainability, one tire at a time, we acknowledge the strong partnership we share with this wonderful family run company.
The Brown family have been exceeding their customer's expectations at their Frankford, Ontario location for years. A glance at their 5 start customer reviews will reveal their focus on quick and friendly customer service with great prices.
Our stakeholder relations team here at eTracks appreciate how Ben Brown has been in this industry for a long time and is super knowledgeable. His transparent straight shooter approach is welcomed both by eTracks and his R&E customers.
What a terrific hauler to have in our eTracks network. Congratulations R&E Tire! We wish you many more years of continued success.
Emterra Group
Award of Excellence in Processing, Emterra Group
We celebrate our strong partnership with Emterra Group, winner of a 2021 eTracks Award of Excellence in Processing.
Great companies often begin with a great story, and when Emmie Leung started as a small curbside collector of cardboard in the 1970's, the Emterra story was just beginning.
Today the family-owned company is an international enterprise with over 1,100 employees, 40 locations and five distinct divisions…all driven by an entrepreneurial spirit and a passion for transforming waste into resources.
Emterra combines experience, innovation, and leading-edge technology to design and deliver cost-effective recycling and waste reduction programs and advisory services in British Columbia, Saskatchewan, Manitoba, Ontario and Michigan.
Our eTracks team value the business excellence that Emmie, her daughter Paulina, and the full crew at Emterra consistently bring to the tire recycling industry. We salute their mission "to be a leader in creating and delivering products and services that enable people and businesses to become stewards of the environment and the future."
In addition to supporting both community and diversity in their business practices, what captures the hearts and minds of many eTrackers is Emmie's belief that there is value in everything and in everyone. That belief, coupled with an entrepreneurial spirit, compels her to view challenges not as barriers, but as opportunities.
Well said Emmie, and well done Emterra on your Award of Excellence!
All Ontario Recycling
Award of Excellence in Hauling, All Ontario Recycling
We congratulate All Ontario Recycling for receiving our Award of Excellence for Hauling.
All Ontario Recycling has been a full-service metal recycler for over 30 years. Headquartered in Barrie, they have 2 recycling yards and are widely considered a leading provider of metal recycling services and haulage to auto wreckers and metal recycling yards across Ontario.
They also haul end-of-life tires, and have been one of our principal haulers since eTracks began.  Our team has nothing but praise for the helpful, cooperative and respectful interactions we have had with Beverley and the rest of the All Ontario Recycling crew.  Our regional investigator respects the way they provide timely information as well as industry insights based on years in the business.
One of our fondest memories and moments of gratitude came when All Ontario Recycling helped eTracks and Goodyear Tire with a massive old tire clean up in the mines.  They have "earned their stripes" over the decades and we salute their ongoing contribution toward Ontario's circular economy.
As a PRO, eTracks supports producers by managing the flow, recycling and re-purposing of used tires, from source to end point.  We manage a complex supply chain of thousands of service providers, like All Ontario Recycling, to ensure producers remain compliant with regulations and support a more circular economy.  Learn more at eTracks.ca
 Interested in how resource recovery, tire recycling and the circular economy works?  Visit our resources page.